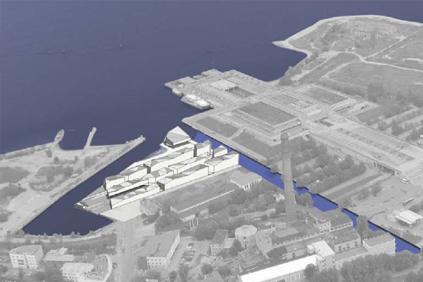 continuous quay
public connector between city and sea
prijsvraag: Europan 10
opdrachtgever: Europan
locatie: Tallinn, Estland
jaar: juni 2009
The continuous quay serves as an urban tool to define the area where the city meets the sea. This urban intervention is the public manifestation of Tallinn's reclamation of its coast.
The new public space of the continuous quay connects several important public buildings and at the same time enhances their importance and presence in the urban fabric through the clear intervention of an additional artificial body of water penetrating into the study area.
The water emphasizes the important public building of the Linnahall through insertion of this attractive new public space.
The water can be used year round; from ice skating in the winter to paddling in the summer, this is extremely important in a city where the seasons have such a distinct character influencing public life. The continuous quay manifests itself as a new destination on the coast, being an important addition to the planned 'cultural kilometer'.
Analogous to the historical city is the urban intervention of the continuous quay with its multitude of different urban spaces truly complimentary to Tallinn's public spaces on the coast.
In samenwerking met Chris Woltjes en Raúl Wallaart